GOTV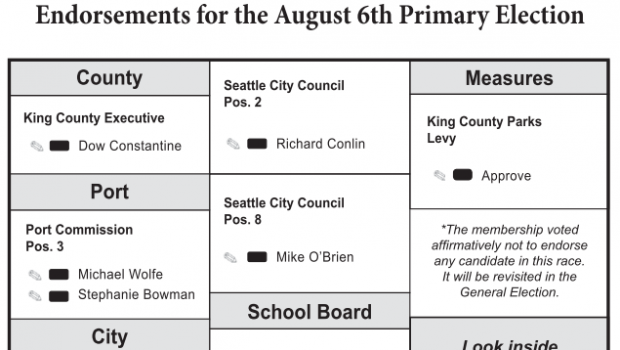 Published on July 9th, 2013 | by Joseph Peha
0
Check Out Our Voter Guide!
Each election the 36th puts together a concise, packaged voter guide that's distributed to thousands of doors across the district. It contains useful fantastic information about our endorsements, a sample ballot, a letter from our chair, and advertisements from endorsed campaigns.
Download your own copy here and check out the full content of our voter guide below: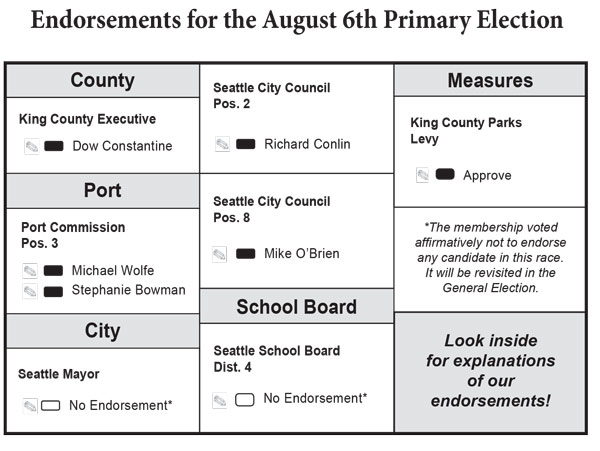 Dear Neighbor,
When deciding how you will vote in the August 6th Primary Election, I hope you will consider the endorsements of the 36th District Democrats.  We carefully screen the candidates for experience, effectiveness, and adherence to the Democratic Party platform.  We dive into the policy minutia of ballot measures to determine whether they reflect progressive values.
Our endorsement process is extensive and involves hundreds hours by dozens of volunteers to help vet the candidates and ballot measures.  For more information about our endorsements and to join our organization, please visit:  www.36th.org/endorsements
Sincerely,
Jeff Manson
Chair, 36th District Democrats
*************************
Dow Constantine for King County Executive
Dow Constantine has been an effective County Executive and he deserves re-election to a second term.  He has built coalitions with the County Council, County employees, municipalities, interest groups, and the State Legislature to achieve an impressive list of accomplishments, including:  securing funding for crucial infrastructure investments, implementing major efficiency improvements through technology and system reforms, and reducing County health care costs through a nationally-recognized employee wellness program.  His impressive first term apparently scared off any serious Republican opposition, even though he remains a champion for liberal values.  Vote to re-elect Dow Constantine.
Michael Wolfe and Stephanie Bowman for Port Commission – Pos. 3
There are two strong Democrats on the ballot for the Port Commission – Position 3.  Michael Wolfe is a travel professional and is Chair of the 37th District Democrats; he brings an expertise in air transportation and the cruise industry.  Stephanie Bowman is the Executive Director of Washington ABC, a non-profit that assists low- and moderate-income families with asset building, and is the former Manager of Federal Government Affairs at the Port of Tacoma; she brings an expertise in seaport operations.  Either candidate would serve us well on the Port Commission.
Richard Conlin for City Council – Pos. 2
Richard Conlin is completing his fourth four-year term on the City Council and has convinced us that he should be re-elected to a fifth.  During his 16 years on the Council, he has pursued a collaborative approach, developing an expertise in a wide array of City issues, having chaired most of the major Council committees and served four years as the Council President.  Brian Carver, another Democrat running for Position 2, is smart and has good ideas, but has not made the case that he should replace Conlin on the Council.  Vote to re-elect Richard Conlin.
Mike O'Brien for City Council – Pos. 8
Mike O'Brien spent his first term on the Council successfully advocating for progressive causes, especially concerning the environment, social justice, and campaign finance reform.  While critics paint O'Brien's pursuits as quixotic, we view his willingness to push the envelope as a breath of fresh air on a council that tends toward caution and incrementalism.  Albert Shen, the other Democrat running for Position 8, is well-intentioned, but has not demonstrated a strong knowledge of city issues or clearly articulated why he is running for City Council.  Mike O'Brien has proven himself in his first term and should serve another.
APPROVE King County Prop. 1 (Parks Levy)
Approving King County Proposition 1 would renew the existing Parks Levy for the next six years.  It would fund operations and maintenance of King County's 200 parks, 175 miles of regional trails, and 26,000 acres of open space; and would support infrastructure repair and replacement, open space acquisition, and trail development.  The County does not use General Fund money to fund parks, so renewal of this levy is necessary to maintain our park system and open spaces.
——————————–
The 36th District Democrats have also endorsed the following candidates who will appear on the ballot for the November 5th General Election:
Seattle City Attorney:  Pete Holmes
Seattle City Council – Pos. 4:  Sally Bagshaw
Seattle City Council – Pos. 6:  Nick Licata
King County Sheriff:  John Urquhart
Port Commission – Pos. 1:  John Creighton
Port Commission – Pos. 2:  Courtney Gregoire
On September 18th at 7:00 PM at the Phinney Neighborhood Association (6615 Dayton Avenue North) we will be considering endorsements for Mayor, School Board, and additional ballot measures for the General Election.